Reflective umbrella
[Hits: 681] [Author: Zhu Aini, 2017-07-0320: 35: 06.0]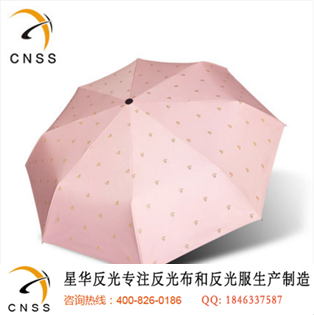 越来越多地应用到了我们的生活中,例如反光背心、反光雨衣、环卫衣,消防服等,这些我们在生活中都比较常见,而反光雨伞的关注度想相对较少。 In recent years, more and more reflective materials have been applied to our lives, such as reflective vests, reflective raincoats, sanitation jackets, fire protection clothing, etc. These are more common in our lives, and reflective umbrellas have relatively little attention .
制作而成,最近一段时间,正是我国长江中下游地区的梅雨时节,降水比较丰富,有些地区甚至发生了洪涝灾。 Reflective umbrellas are mainly made of printed reflective cloth . In the recent period, it was the rainy season in the middle and lower reaches of the Yangtze River in China. The rainfall was relatively abundant, and some areas even suffered floods. In this rainy season, the consumer's purchase demand for umbrellas has also greatly increased, and the reflective umbrellas produced by our company can not only meet users' sun protection and rain protection requirements, but also have a reflective effect, which can be your choice.
Usually at night, the driver of an oncoming car will use the flash light arbitrarily, causing the driver to see only pedestrians within 3 meters and blinding for 3 seconds, and the sight of the rain is more blurred, this situation is quite dangerous! Holding a reflective umbrella can warn the driver on dark rainy nights, avoid harming pedestrians, and protect our own safety.
是采用我司先进的反光材料与工艺,质检达到EN471-2级标,与专用制服属同等标准,环保无污染,反光效果和耐久度有较高的质量保证。 At the same time, the reflective fabric of the reflective safety umbrella is made of our advanced reflective materials and technology. The quality inspection has reached the standard of EN471-2, which is the same standard as the special uniform. It is environmentally friendly and pollution-free. .
Do you need an umbrella like this to watch this article?